The "Archaea" thematic group was created in 2011 at the initiative of Patrick Forterre and Bruno Franzetti in order to gather biochemists and molecular biologists from the French archaea community. The goal was to facilitate exchanges and discussions around unifying themes related to Archaea, the third domain of life, in ecosystems, evolution and the fundamental processes of life. In 2021, the organization of the "Archaea" thematic group relies on an organizing committee made up of 6 members (Toulouse, Brest, Palaiseau, Orsay).
Our com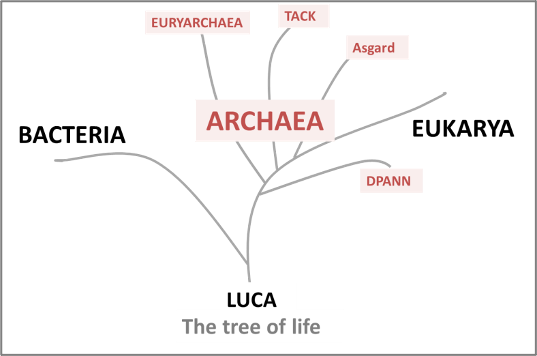 munity is interested in understanding the fundamental molecular mechanisms of archaea, the diversity of their viruses and the adaptive limits of their living environment. Studies of Archaea lead to new scenarii for the appearance of life on Earth. The presence of archaea everywhere on earth, their diversity and their molecular characteristics is still puzzling. Studied by biochemists, microbiologists, evolutionists, molecular biologists and used by industry. Archaea are now considered as essential study models for life understanding.
Scientific interests
Place of archaea in evolution
Role of Archaea in soil and ocean microbial communities and in human microbiota
Molecular mechanisms responsible for the extraordinary adaptive capacities of archaea
How to harness the biodiversity and unique properties of Archaea to discover new molecules for biotechnology
Understand the fundamental cellular mechanisms based on Archean models  
Missions of the "GT Archaea"
Animate the archaea community within the SFBBM
Organize scientific events such as the annual day and seminars
Promote collaboration / cooperation between teams of the "GT Archaea"
Actions aimed at the general public
Subscribe to the mailing list
To subscribe to the GT archaea mailing list : send an e-mail to

This email address is being protected from spambots. You need JavaScript enabled to view it.

. Indicate as subject: subscribe gt_archaea_sfbbm Firstname Name (ex: subscribe gt_archaea_sfbbm Béatrice Clouet-d'Orval), leave the e-mail's body empty.
To unsubscribe : send an e-mail to

This email address is being protected from spambots. You need JavaScript enabled to view it.

. Indicate as subject: unsubscribe gt_archaea_sfbbm
Leave the e-mail's body empty.
Next Meetings, News
The SFBBM prize for the best poster was awarded to Markel Martinez-Carranza (Institut Pasteur- Equipe Ludovic Sauget) during the GDR Archées congress in November 2022 in Autrans. 

Series of seminars in 2023:

Series of seminars in 2022:
Organizational chart
Tamara Basta-Le Berre (I2BC- Gif sur Yvette)
This email address is being protected from spambots. You need JavaScript enabled to view it.(CBI-Toulouse), Chair
Didier Flament (Ifremer, Brest)
Jean-Louis Mergny (Ecole Polytechnique, Palaiseau)
Hannu Myllykallio (Ecole Polytechnique, Palaiseau)
This email address is being protected from spambots. You need JavaScript enabled to view it. (Ecole Polytechnique, Palaiseau), Vice-Chair
History