The 8th symposium of the SFBBM Proteolysis group was held from October 15th to 17th in La Grande Motte (Hérault). It was organized by a local committee coordinated by Olivier Coux (CRBM) and including several scientists from Montpellier (Pascale Bomont, INM, Guillaume Bossis, IGMM, Solange Desagher, IGMM, Dimitris Liakopoulos, CRBM, Emmanuelle Liaudet-Coopman, IRCM, Marc Piechaczyk, IGMM, Dimitris Xirodimas, CRBM).
This conference gathered 75 French and foreign scientists around the topic of cellular proteolysis and allowed a broad overview of this topic, the program covering both extracellular proteolysis and cytosolic proteases, the ubiquitin-proteasome system, conjugation of ubiquitin-related proteins (ub-like) and autophagy. The work presented ranged from very basic, structural and mechanistic approaches to translational approaches aimed at targeting proteolytic systems in various pathologies including cancer, viral and neurodegenerative diseases.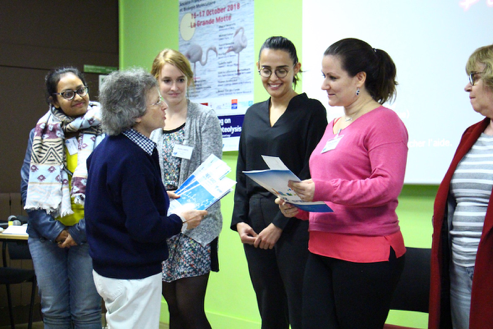 Awarding of prizes to doctoral and post-doctoral students selected for an oral presentation, by Mrs. Maria Foka, secretary of the SFBBM.
From left to right : Meenakshi Basu (PhD student, Montpellier) ; Maëlle Cartel (PhD student, Toulouse) ; Seda Seren (PhD student, Tours) ; Lindsay Alcaraz (Post-doc, Montpellier) ; Marie-Paule Hamon (Post-doc, Paris).
In addition to guest speakers of international renown, a large place has been made for selected presentations from the abstracts. This gave the opportunity to young researchers (PhD students and post-docs) to present their research to an audience of specialists in the field. The holding of the congress in a holiday center made it possible to host all the participants on the symposium site, which favored exchanges during the meals and the evenings and thus the setting up of new collaborations. Prizes have been awarded to doctoral and post-doctoral students selected for an oral presentation, as well as the 2 best posters.
The next meeting of the SFBBM's proteolysis group will be held in the Paris region.