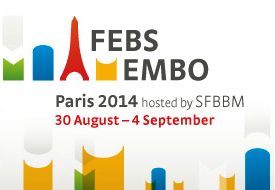 The FEBS-EMBO-SFBBM congress was held in Paris from 30 August to 4 September 2014 under the auspices of innovation and celebrations.
Innovation because for the first time FEBS and EMBO have joined forces to organize a single congress instead of the annual FEBS Meeting and EMBO Congress.
Celebrations for three institutions: fiftieth anniversary of the FEBS and the EMBO and, on the other hand, the SFBBM ensuring the local organization, it was for her the opportunity to shine in the limelight for her 100 years of experience, existence.
Regard sur la Biochimie Novembre 2014 - spécial centenaire de la SFBBM