Proceedings of the 7th Symposium of the Thematic Group "Cell Proteolysis"
The 7th Colloquium of the Thematic Group "Cell Proteolysis" of the French Society of Biochemistry and Molecular Biology (SFBBM) was held in Sète (Hérault) from 28 May to 30 May 2015.
This year, it brought together 65 participants who exchanged and discussed in a very dynamic way throughout the symposium. In addition to the invited national and international speakers, a large place was given to short oral communications selected on summary. Of these, 8 were presented by young researchers, PhD students and post-doctoral fellows, who received a scholarship from the SFBBM at the symposium. The Posters session also held in good spirits and gave rise to many exchanges between participants.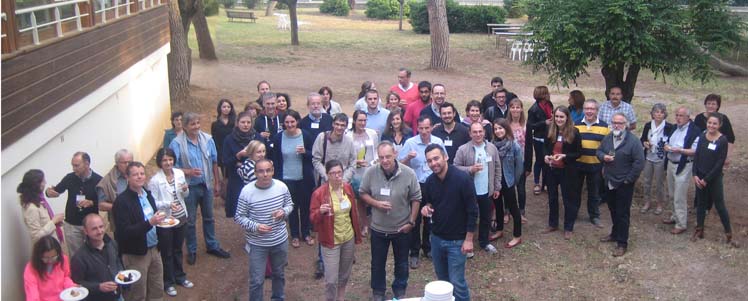 The aim of the symposium was to follow scientific developments in cellular proteolysis in both physiological and pathological contexts. In all living organisms, proteins are produced in a process called "protein synthesis" and degraded in a process called "proteolysis". These cellular mechanisms contribute to the continuous renewal of certain proteins, to the fine regulation of many biological processes, and to the adaptation to environmental changes. They thus participate in the physiology of living organisms in unicellular or multicellular organisms, both animal and plant. Given the important role of cellular proteolysis in the control and regulation of diseases, the basic knowledge of the mode of action of proteases can be applied for therapeutic or phytoprotection purposes. The symposium sessions covered all these issues, while leaving time for exchanges between young researchers and experienced researchers and for moments of conviviality. Apéritif sétois, paella and evening dancing have largely contributed to the warm atmosphere. Thank you to the participants who made this conference an excellent scientific meeting very rewarding and to those who, by organizing it, have made it friendly and cordial. Thanks also to sponsors (the National Cancer Institute, the League against Cancer, the University Toulouse III - Paul Sabatier, as well as the companies Euromedex, InvivoGen, Macherey-Nagel, New England BioLabs France, Proteomics Consult and Sigma-Aldrich ) For their generous support.
Pierre Lutz, Chair of the GT Cellular Proteolysis of the SFBBM