Report of the 4th congress of the Thematic Group "Enzymes: Structure, Function, Catalysis, Engineering and Regulation"
The 2015 edition of the Enzymes WG congress was  coupled with the Molecular Modeling and Design Group, a group associated with the SFBBM.
Numerous exchanges between the 128 participants took place during the two congresses which overlapped from 25 to 28 May, in a friendly atmosphere, on the Lazaret site in Sète.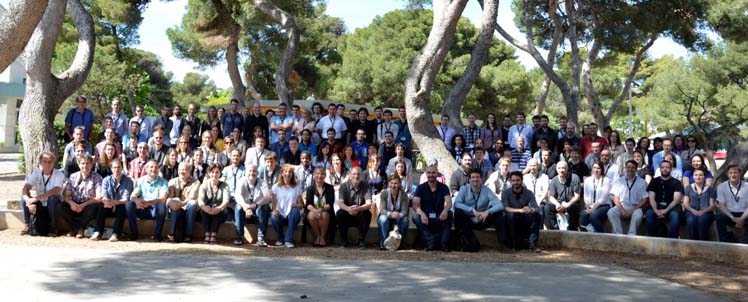 This event allowed us to link the experimental side of enzymology with predictive methods, through structural and molecular graphics. The meeting of the two thematic groups enabled, for example, the sharing of innovative tools for the advancement of research in each of the fields. Two half-days were devoted to common themes: "enzymes as therapeutic targets" and "enzymatic engineering and directed evolution".
The program consisted of 6 sessions, including 6 plenary lectures and 37 oral presentations, the speakers of which were selected on the basis of the submitted summary. The 45 poster presentations resulted in one-minute "Flash" communications with a single slide. Virginie Martiny, Anne-Elisabeth Molza and Cédric Gageat were rewarded with a best poster for the interest of their work, but also for their motivation and dynamism during the 3 sessions.
Rendez-vous is given in 2017 in Brittany for the next congress of the Enzymes GT which will be organized by Charles Tellier.